Plastic Extrusion Machine – Single/Double Wall Corrugated Pipe Plant
In principle, rigid pipe consumes more raw materials to become more rigid ! Though it is used ample, their rigidity works against them in manufacturing, storing, transporting & at last using. While in contrast, Corrugated Pipe designed like Elephant's Trunk offers strength consuming lesser raw material.
Their Flexibility and Strength has widened its application spectrum, result is fast replacement of rigid pipes in market. Corrugated Pipes have illustrative Characteristics, which has made them requisite commodity in plastic's pipe market. These includes: Colourful Decorative appearance, Flexibility, Strength, Anti-corrosiveness, Excellent Insulation & Safety…among all other.
Our company as Manufacturers of Plastic Corrugator Pipe Machinery for Single wall & Double wall Corrugated pipe to increase automation to get uniform production sequences, consistent product quality & efficient machine utilization.
PLASTIC EXTRUSION MACHINE
DOUBLE WALL CORRUGATED PIPE PLANT
SIZE FROM 50MM TO 150MM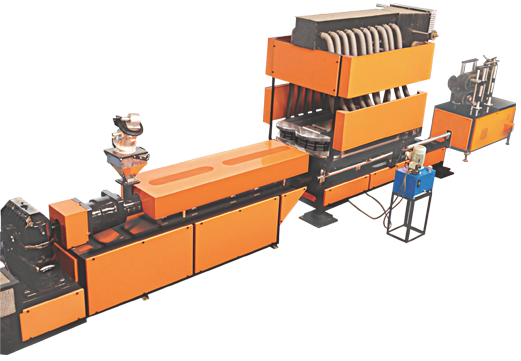 CORRUGATED EXTRUSION PIPE LINE DIAMETER
VARIES FROM 10MM TO 50MM [SINGLE WALL]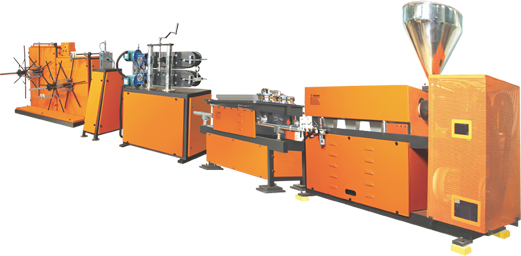 Above PLANT Consist following Machinery & Ancillary Equipments:
EXTRUDER MACHINE
HOPPER LOADER
DIE HEAD
CORRUGATOR MACHINE
CORRUGATED MOULD SET
CONTROL PANEL
PIPE PULLAR UNIT
PIPE CUTTING UNIT
TWO COIL WINDER
DOUBLE AIR GAUGE
REGULATOR
WATER CHILLER
AIR COMPRESSOR
Volcano Pipe Corrugator team offeradvice, development, testing & service to meet our customers' need for Single wall & Double wall Corrugated pipe