PLASTIC CORRUGATED EXTRUSION PIPE LINE PLANT
(Single Wall Plastic Corrugator Machine – SWC Extrusion Machine)
A PIPE FROM VFTI PLANT
Volcano manufacturer Corrugated pipe plant with optimum engineered design, accurately machine parts, close modular, compactness, aesthetic base & latest ergonomics. Ease to change mould blocks of different pipe sizes gives the plant operational simplicity.
Low routine maintenance cost, Less power consumption, Quick after-sales services gives finishing touch to a top-of-the-line finished product from our Pipe Corrugation plant
PLANT RANGE
Single Wall Corrugated Pipe in two sizes viz: OD: 010-50 mm & 050-150 mm We can design & supply customize Corrugated Pipe Plant other than our above regular demand sizes.
Size of Pipe
From 10 mm to 50mm Diameter
Drive For Corrugator
3HP.3 Phase 415±5 voltage Gear Motor [standard make]
VVariable Speed Drive
0.5 m/min to 15m/min speed variable depend on size & output of extruder with emergency stop arrangement.
Lubrication System
Centralized lubrication system used to give specific pulse at specific place to easily slide with low friction.
Cooling System
Inbuilt cooling channel with brass fitting of inlet & outlet connection for chilled water.
Over All Dimension
3000mm x 600 mm x 1850mm (L x W x H)
Air Chiller
Used as additional air cooling for better finish & output
Pipe manufactured using Volcano Single Wall Plastic Corrugator plant offers following distinctive privileges:
Raw Material Economy
Weight of rigid pipe & corrugated pipe in hand is elf-explanatory
Ease of Handling & Packing
Lighter weight of pipes makes handling, packing & transportation, easy & cheap.
Strength
Pipes are Impact resistive according to corrugation profile design.
Flexibility
Compared to rigid pipes, corrugated pipes are easy to install.
Space Saving
This pipes require less storage area, because of their flexibility &
rolled in coil form.
Rodent Proof
For Civil Engineering purpose, their rat/rodent resistant feature works wonders.
Insulation
These pipes are extensively used in electrical installations because of their insulation property.



Control Panel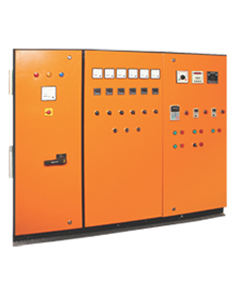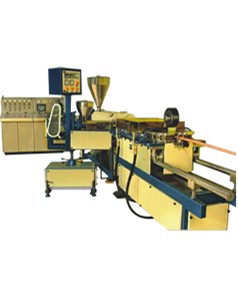 Volcano is supplying state of the art Control Panel along with machine to govern & synchronize key process parameters of process sequence of in-line plant sectors, to produce qualitative corrugated pipes.
Control Panel comprises of automation products like AC Drives, Temperature Controllers, Length Counter & Lubrication Controller along with different Indicators, Meters & Control Switches
Control Panel provide the operations between major sections of Plant & provide smooth control for Extruder, Corrugator, Pipe Puller & Cutter & Coiler.
PIPE PULLER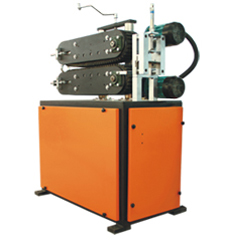 Volcano offers synchronized Panel on-line pipe traction unit. Geared motor pulls pipe & prevents it from residual deformation & burrs.
This unit consists of specially designed endless tooth rubber belt. Adjustable gap device is equipped to adjust the gap between two rollers with variable line speed. Adjustable wheel tension unit facilitates its use for different pipe sizes. It is equipped with on line longitudinal cutting device for wire harnesses
PIPE CUTTER
Sharp edged, rapid action pipe cutter cuts on line pipe of desired coil length. It is equipped with FRL unit, pneumatic cylinder working on signal from panel electronics.
This smoothens cutting edge & eliminates manpower requirement
COILER MOTORIZED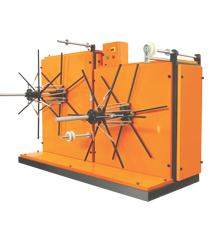 Volcano has developed adjustable gear motor operated two-spool winder, which winds pipe online.
It winds pipe in coil form on spool as per output available, its extraction is made simply easy by umbrella design Coil size can be of ID-010″, OD-036″, Width-9″ or as per customer requirements.