Double Wall PLASTIC CORRUGATOR MACHINE
DOUBLE WALL PLASTIC CORRUGATOR PIPE PLANT (DWC PIPE PLANT)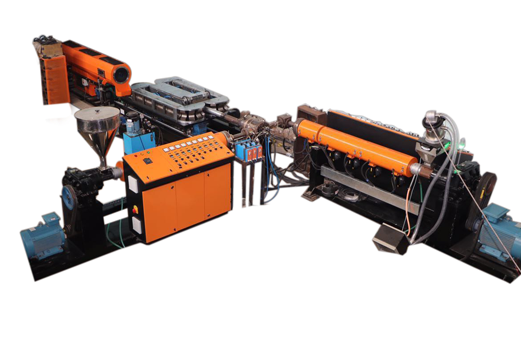 To strengthen corrugated pipe lor use in high pressure & high impact applications, Volcano have developed a mile stone double wall Corrugator of marvelously crafted article of plastic technology.
For similar material of inner & outer tube, single extruder is used with special die head, while for non-similar material of inner & outer tube, duel extruders with specific cross die head is used.
Here Inner tube protects & conveys material at minimum loss of friction & pressure, while outer corrugation adds protective mechanical properties.
Depending on material, welding junction zone of adjacent pipe surfaces gives additional strength like as of spiral-breaded design.
Double wall corrugated pipe plant consist of Extruder, Die Head, Corrugator, Cooling tank, Puller, Cutter.
| | |
| --- | --- |
| Size of Pipe | From 50 mm to 150mm Diameter |
| Drive For Corrugator | 5HP.3 Phase 415±5 voltage Gear Motor [standard make] |
| Variable Speed Drive | 0.5 m/min to 10m/min speed variable depend on size & output of extruder with emergency stop arrangement. |
| Lubrication System | Centralized lubrication system used to give specific pulse at specific place to easily slide with low friction. |
| Cooling System | Inbuilt cooling channel with brass fitting of inlet & outlet connection for chilled water. |
| Air Chiller | Used as additional air cooling for better finish & output |
| Line Speed Per Minute | 3 to 6 Meter /min depend on size of pipe. |
CUTTER – TILTING UNIT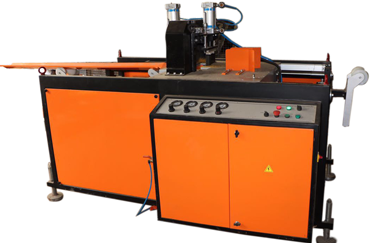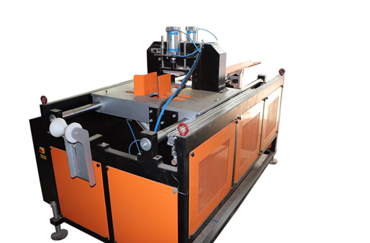 AC motor driven planetary cutting unit to cut pipe diameter. Pipe cutting jaws clamping force adjustable, depending upon wall thickness & diameter of pipe.
Saw table movement through pneumatic cylinder can be synchronized with pipe line speed providing cut out for Length Counter. After cutting pipe get collect & kept in order by tilting unit.
WATER TANK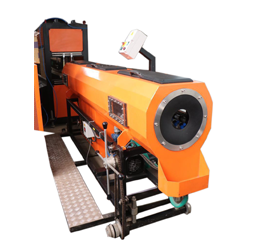 Cooling water tank is require to give additional cooling tor maintain shape & size. Water spray on outside diameter ot pipe.
This water cooling tank is provided with different point for water spray for single length of pipe to strength its properties.
TOOLS & DIE
We design mould block as per engineering & manufacturing method. It is functionally suitable to use in working with minimum maintaince with low cost.
EXTRUDER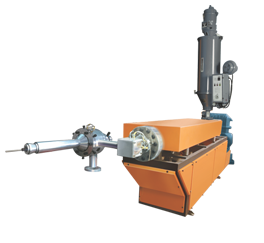 Extruder machies for double wall corrugated for to process two colour corrugated pipe in this system two Extruder combine in one Die head with help of adapter co-extruded proceed in same way in Corrugator Machine.
CORRUGATOR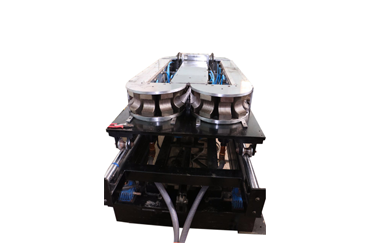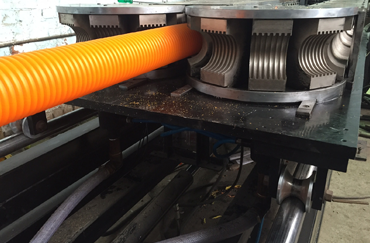 VOLCANO Pipe Corrugator machine for Double wall corrugation range from 50mm Inside diameter to 150mm Out side diameter with easily manual replacement of mould for different Size of pipe diameter
PULLER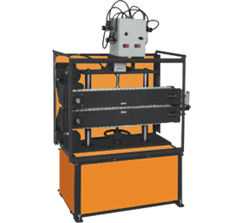 Pipe Puller is require to maintain uniformity of pipe with upper & lower belt. Speed is control with respect of line speed of Corrugator machine.
Endless rubber belt provided in which pipe get gripped and pull out.
Wide range of line speed is available and a required speed is selected very easily through AC frequency drive.
Synchronization is providing between drives of haul-off and extrude for ease of operation and reduction of wastage.
DWC PIPE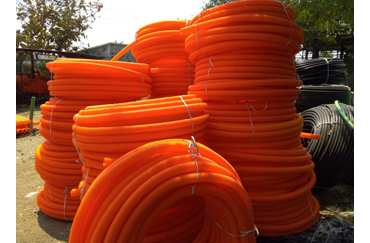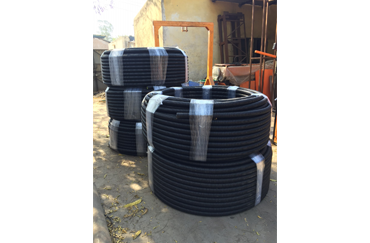 Advantage of Double wall Corrugated pipe is cost effective as it outer wall is corrugated make that light in weight with excellent high performance engineering mechanical properties, impact resistance, crush resistance. compression strength with high ring stiffness.
Additional inner wall provide smooth surface which provide high flow efficiency due to less friction. It has got good corrosion resistance as well as easy inserting application e.g. Cable. Due to excellent junction method it has become leakage proof.It is easy to cut,handle & deliver for drain system.
It can be made from a wide range of blow-moldable or vacuum-formable thermoplastic materials including PE, HDPE etc.
These pipes are used in various indoor, outdoor, underground applications like sanitary sewer system and other drainage application.
Agriculture : Field drainage systems, Irrigation, Greenhouse drainage, land irrigation.
Automotive : Heater/defrosting air conditioning ducts, radiators & other hoses.
Construction : ln Bridge & Building Cable ducts & conduits, heating & water pipe insulation ventilation air conditioning ducts, central vacuum duct work & hoses